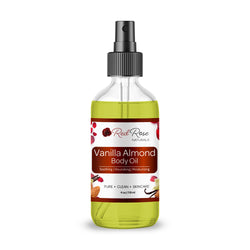 Our Body Oil is infused with rich and decadent vanilla. Leaving a smooth, silky-soft feel, it moisturizes and helps retain the skin's natural moisture balance.

Directions: Apply to clean, dry skin and massage into skin. Use daily or as often as desired.

Ingredients: with the word "Ingredients": Ingredients: Sunflower Oil, Vanilla Infused Olive Oil, Safflower Oil, Vanilla Extracts, Fragrance Oil.