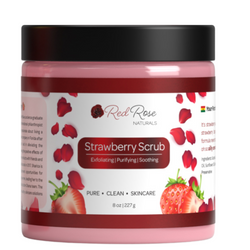 Shop Amazon here: https://a.co/d/8Vd3Odh
A strawberry body scrub that pampers your skin with a natural exfoliating pure sugar blend. A delight for your senses with the strawberry fragrance. 
Our Strawberry Body Scrub is a luxurious, exfoliating body scrub that leaves your skin beautifully soft and moisturized. Natural pure sugar crystals gently buff away dead skin cells and impurities for a smoother, brighter looking complexion. A strawberry scent is added for a delightful treat for your senses in a 8 oz. Jar The Strawberry Body Scrub is a perfect way to exfoliate and refresh your skin. It is composed of natural ingredients like sugar and strawberries, which are both gentle on the skin and highly effective at removing dead skin cells. The sugar also helps to draw out dirt and oil from the pores, leaving you feeling refreshed and invigorated. Our exfoliating body scrub is made entirely of natural ingredients such as shea butter, sunflower oil, and beet extracts. Our Body Scrub is the best sugar scrub for dry skin because it works to slough away the appearance of dead skin cells and dirt from the skin's surface. To use the strawberry body scrub, apply the sugar scrub to damp skin in a circular motion. You can use this all natural sugar scrub on the legs neck, chest, hands, and anywhere else on the body where you want to exfoliate. 
Size: 8 ounces 
Ingredients: Sucrose(Sugar), Strawberry Powder, Shea Butter, Strawberry Seed Oil, Sunflower Oil, Beet Extracts, Paraben-Free Fragrance, Plant-Based Preservative