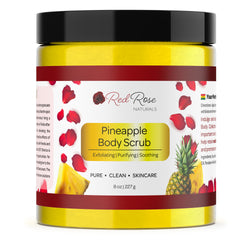 Indulge and escape to the tropics with our Pineapple Body Collection. Our Pineapple Body Scrub plays an important role in protecting the outer layer of the skin to help retain moisture, combat the visible signs of aging, and promote a more even skin tone.
Apply body scrub to wet skin. Massage in a circular motion to exfoliate and rinse with water.

Made With Pure Ingredients:

Sucrose, Pineapple Oil, Shea Butter, Sunflower oil, Avocado Oil, Paraben-Free Fragrance, Paraben-Free Preservative. 
8 oz | 227 g