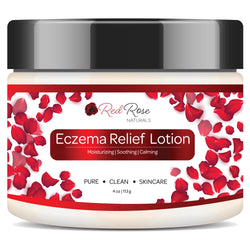 This non-greasy natural formula helps to immediately calm itchy skin and nourish skin cells. 
Gentle Enough for babies 6 months and up.
Our Eczema Relief Lotion is the perfect blend for deeply nourishing the look of your skin. The botanicals work together to help hydrate dry skin, eczema-prone skin & skin with psoriasis.

The Eczema Relief Lotion helps in providing the skin the perfect balance. The infused herbal oils aid in providing relief to inflamed skin and supports the process to beautiful skin. The Calendula infused oil has a nice soothing and calming feeling that will also help reduce itching. Neem, an ancient powerful herb can regenerate the cells of the body to reduce the inflammation and swelling. Our Products are designed to enhance the health of skin, Helping to give the feeling of confidence that comes from radiant, healthy looking skin.
Full Size: 4 oz. 
Ingredients: Calendula Hydrosol, Sunflower Oil, Raw Shea Butter, Comfrey Leaf, Calendula, Chamomile, Lavender Essential Oil, Tea Tree Essential Oil, Paraben-Free Preservative, Vitamin E Oil, Sweet Almond Oil, Neem, Plant-Based Emulsifying Wax, Aloe Vera.