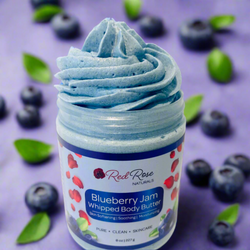 Blueberry Jam Whipped Body Butter 8 oz (larger size)
Our blueberry jam body butter is made beautifully for you, so you can have that silky smooth feeling every time. The sweet scent of blueberry jam reminds you of the good times and delicious smells of summer. This fruit-based body butter made from fresh blueberries and shea butter is an irresistible treat for your skin!
Directions: Massage on the skin as needed for deeply moisturized and nourished skin.
Ingredients: Raw African Shea Butter, Blueberry-Infused Olive Oil, Sunflower Oil, Blueberry Extracts, Plant-Based Fragrance/Essential Oil Blend, Mica Natural Colorant, Vitamin E Oil, Sweet Almond Oil.