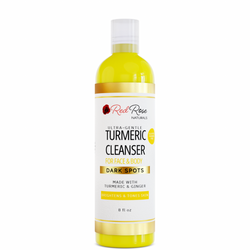 Turmeric Soap Cleanser For Face & Body
 Benefits: This cleanser is great for cleansing dark spots, blemishes, acne, and eczema-prone skin. This is the perfect cleanser for your face and body. It's formulated to clean dry skin and challenging skin while properly hydrating the skin.  
Natural Fragrance Notes: High Notes of lemon & ginger and low notes of tea tree. 
8 oz.
Potassium Hydroxide, Turmeric Infused Sunflower Oil, Aloe Barbadensis Leaf Juice, Distilled Water, Flaxseed Extract, Ginger, Avocado Oil, Buriti Fruit Extract, Lemon Extract, Turmeric Powder, Turmeric Essential Oil, Essential Oil Blend, Tea Tree Essential Oil, Paraben-Free Preservative. Vitamin E Oil.
AVAILABLE ON AMAZON HERE: https://www.amazon.com/Red-Rose-Naturals-Brightening-Cleansing/dp/B0B7WFKMTC?maas=maas_adg_02D111F7A4B0E3B899FF580605E13ECB_afap_abs&ref_=aa_maas&tag=maas