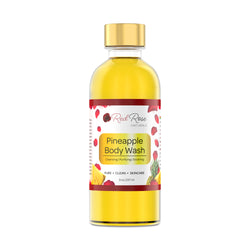 Indulge and escape to the tropics with our Pineapple Body Collection. Our Pineapple Body wash is a refreshing and vibrant, irresistible luxurious tropical scent. Experience a rich and sudsy lather that will help you smell good, feel good, and achieve revitalized skin.
Lather on wet skin and thoroughly rinse.

Made With Pure Ingredients:

Potassium Hydroxide, Sunflower Oil, Distilled Water, Pineapple Extracts, Avocado Oil, Essential Oil Blend, green tea extract, Paraben-Free Fragrance Blend, Paraben-Free Preservative. 
8 oz | 237 ml