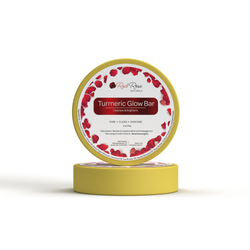 Looking to achieve brighter skin? 
The Turmeric Glow Bar is a great cleanser for skin with blemishes, dull skin, and acne.  
Description: Wet bar to create a lather and massage into face using circular motions. Rinse thoroughly.
4 oz Bar
Ingredients: Turmeric Powder, Castor Oil, Extra Virgin Olive Oil, Coconut Oil, Sunflower Oil, Sweet Almond Oil, Shea Butter, Sodium Hydroxide,  Distilled Water.