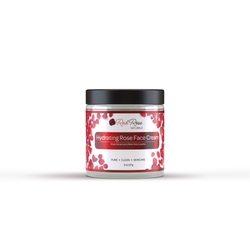 Hydrating Rose Face Cream
This super nourishing, natural and toning facial cream is perfect for everyday use. The Rose Infused Hydrating Face Cream is formulated for sensitive skin to normal skin. Enriched with herbs and nurturing botanicals. 
Naturally improves the appearance of skin tone, texture, and pigmentation.
Directions: Smooth on face with gentle upward and outward strokes. Use morning and night for maximum benefit
Benefits: 
Brightens the appearance of the skin tone & restores your youthful glow.

Has skin softening, soothing & moisturizing properties.

Hydrates fine lines, blemishes, dry skin and wrinkles.

Reduces the appearance aging & restores skin elasticity

Sun-friendly.
Made With Pure & Authentic Ingredients:   
Rose Hydrosol, Jojoba Oil, Rose Infused Oil,  Shea Butter, Aloe Vera, Vitamin E Oil, Rose Hip Seed Oil, Sweet Almond Oil, Rose Absolute Oil, Rosemary Essential Oil, Plant-Based Emulsifying Wax,  Grapeseed Oil, Rose Geranium,  Ylang Ylang Essential Oil, Paraben-Free Preservative, Essential Oil Blend.