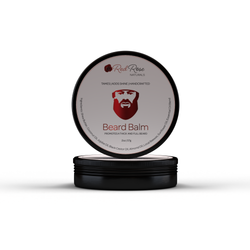 Treat your beard with the pride and love it deserves. Our Beard Balm immediately moisturizes, conditions, repels dandruff and keeps your beard soft and shiny. Conditions and moisturizes to promote a soft, thick-growing beard. 
Daily, leave-in conditioner and styling aid. 
Seals in moisture and conditions your beard, making hair appear thicker.
Penetrates deeply and moisturizes with no greasy after-feel.
Rich in vitamins A, D, E, and F, and essential fatty acids.
2 oz. tin
Suggested Use: Rub and massage thoroughly into all areas of your beard, in the morning, after a shower, and as needed.   

Made with all Pure Ingredients: Shea Butter, Coconut Oil, Jojoba Oil, Black Castor Oil, Almond Oil, Local Beeswax, Sunflower Oil, Essential Oil Blend.