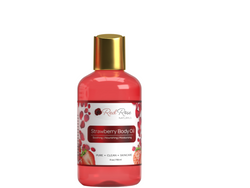 This Strawberry Body Oil is a potent deep moisturizing treatment to impart soft glowing skin. This luxurious body oil is quickly absorbed, leaving your skin feeling hydrated and deeply nourished. A natural source of antioxidants and vitamins, it can be used alone or in combination with other products.
Ingredients: Safflower Oil, Strawberry Seed Oil, Sunflower Oil, Avocado Oil, 
Paraben-Free Fragrance Oil.