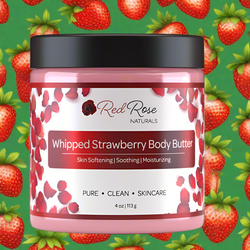 Whipped Strawberry Body Butter-Full Size-4 oz.
A fresh fruity scent combining juicy strawberry seed oil with premium & ethically sourced luxurious butter and natural oils. 
The Whipped Strawberry Body Butter is made with the best-of-the-best all-natural and luxurious ingredients. This creamy moisturizer will restore your skin's glow, in no time. Let your skin soak in this luxurious moisturizer and fall in love with the fresh strawberry notes! Blended with Strawberry Seed Oil: calming, replenishes moisture barrier, leaves skin soft and smooth.
4 oz. Jar
Made With Pure Ingredients:
Raw African Shea Butter, Strawberry Seed Oil, Sunflower Oil, Raw Mango Butter, Coconut Oil, Yellow Dock Extract, Plant-Based Fragrance/Essential Oil Blend, Natural Colorant, Vitamin E Oil.
*If shipped during warmer weather, this product may melt. Body Butters have a low melting point. Please monitor your tracking status to quickly retrieve packages from the mailbox. If melting at any time occurs, simply place the butter in the fridge and it will solidify. After solidifying please stir butter to fluff. The melting will not affect the great quality and nutrients of the butter. Express shipping with a cold pack is available upon request. Send a message below for this additional service fee.