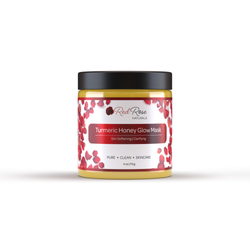 Discover the best hydrating, exfoliating, and nourishing face masks. Our facial masks are made with all-natural ingredients from soothing botanicals and minerals.
Pamper your skin with Red Rose Naturals' selection of clarifying, repairing & soothing masks once weekly.  
Our Spa Grade mask help to hydrate skin, smooth fine lines, slough away dead cells and unclog pores.  

 Turmeric Honey Glow-Clarifies & Softens
Benefits: This hydrating mask features skin brightening turmeric as well as honey for added moisture. Turmeric gently draws out impurities straight from your pores, while reducing the appearance of redness, blemishes, dark spots, and breakouts. Honey helps attract and seal in moisture to soften, reduce enlarged pores and soothe the skin. Feel revitalized and cleansed with the glowing Turmeric Honey Mask.  
Directions: 1 x weekly, In a separate bowl, mix 1/2 to 1 tablespoon with a few drops of water until a nice paste is formed. Apply to your face and let dry. Rinse with warm water. 
Ingredients: Turmeric Powder, Honey Powder, Bentonite, White China Clay, Kaolin.