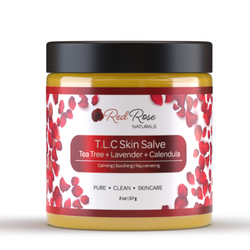 This Natural Skin Salve is the perfect blend for your skin needs. Made with Tea Tree Oil, Lavender essential oil, and Calendula infused Oil. Hydrates skin with Eczema, psoriasis, blemishes, acne, rosacea, sunburn, rashes, dry skin, dermatitis, dark spots, diaper rashes, and stretch marks, leaving skin calm and smooth.
Not only is it super moisturizing, it is also nurturing to all skin including sensitive skin. T.L.C Skin Salve is a botanical and nourishing creation. This product was created first in 2015, which led to the launch of our company. 
Tea Tree Oil- Soothing
Lavender Oil - Calming
Calendula Oil - Nurturing
Apply twice daily or as desired.
Our tea tree salve is designed so that a little goes a long way. Start with a small amount, and add more as needed.
2 oz Jar.
Ingredients:


Jojoba Oil, Shea Butter, Lavender Oil, Vitamin E Oil, Sunflower Oil, Sweet Almond Oil, Beeswax, Calendula, Coconut Oil, Tea Tree Essential Oil, Essential Oil Blend.