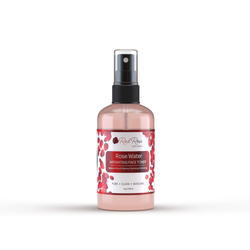 Rose Water Hydrating Face Toner
The pH-balanced Rose Water Hydrating Face Toner provides instant hydration and absorbs excess oil for your face and neck while revitalizing the skin, helping to create a more vibrant and youthful complexion. 
This product is Step 2 in our Revitalizing Face Kit but can be used separately as the benefits are still remarkable.
Description: To Use: Mist face and neck, morning and evening, following cleansing. 
Tip: Can Be Used For Under Eye Dark Circles & Hair Hydration.
Suitable for all skin types. Normal, Oily, Dry, Sensitive & Acne-Prone.
100% PURE ROSE WATER HYDRATING FACE TONER. Made with 100% pure rose floral water.
Ingredients: Rose Distilled Rose Water, Rosa Damascena Hydrosol.