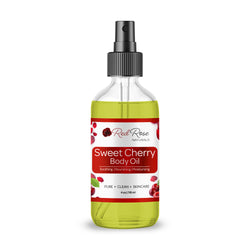 Give your skin a sweet treat with our Sweet Cherry Body Butter. Handcrafted from the finest butters, shea butter and scented with sweet, juicy cherries to moisturize and nourish dry skin. Naturally formulated and safe to use anywhere on your body, this body butter is great for hands, elbows and knees.
Directions: Massage on the skin as needed for deeply moisturized and nourished skin.
Ingredients:
Raw African Shea Butter, Cherry Seed-Infused Olive Oil, Sunflower Oil, Cherry Extracts, Plant-Based Fragrance/Essential Oil Blend, Mica Natural Colorant, Vitamin E Oil, Sweet Almond Oil.