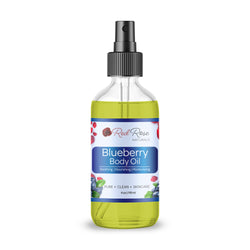 Blueberry Jam Body Oil is an addictive, captivating combination of blueberries and rich oils. Take a dip in the berry-inspired body oil and be transported to a never-ending summer. It's pure indulgence for your skin.
Directions: Apply to clean, dry skin and massage into skin. Use daily or as often as desired.
Ingredients: 
Ingredients: Sunflower Oil, Blueberry Seed Infused Olive Oil, Safflower Oil, Fragrance Oil.