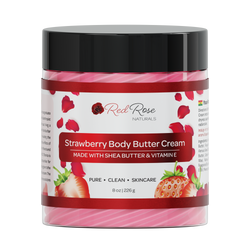 Strawberry Body Butter Cream
Indulge your senses and nourish your skin with the luxurious Strawberry Body Butter Cream this summer by Red Rose Naturals. This exquisite product is crafted with the finest ingredients, with pure shea butter taking center stage to provide deep hydration and intense moisturization.
The Strawberry Body Butter Cream is a testament to Red Rose Naturals' commitment to using only the highest quality components. The pure shea butter is sourced responsibly and derived from the nuts of the shea tree, ensuring that your skin receives the full benefits of this natural wonder. Known for its exceptional moisturizing properties, shea butter penetrates deeply into the skin, replenishing moisture and leaving it feeling supple, smooth, and irresistibly soft.
With a delightful strawberry scent, this body butter cream envelops your senses, transporting you to a fragrant strawberry field on a warm summer day. The refreshing aroma lingers on your skin, providing a subtle and pleasing fragrance that lasts throughout the day.
The Red Rose Naturals Strawberry Body Butter Cream is meticulously formulated to be non-greasy, allowing it to be easily absorbed into the skin without leaving any residue. This lightweight texture ensures a silky, smooth application, leaving your skin feeling velvety and pampered.
Every jar of Red Rose Naturals Strawberry Body Butter Cream is carefully crafted with love and dedication. It is free from harsh chemicals, parabens, and artificial additives, making it suitable for all skin types, including sensitive skin. The natural ingredients in this product work in harmony to nurture and restore your skin's natural vitality, promoting a healthy and radiant appearance.
Pamper yourself with the decadence of Red Rose Naturals Strawberry Body Butter Cream. Let the pure shea butter and enchanting strawberry fragrance transform your skincare routine into a luxurious and indulgent experience. Experience the difference of this exceptional product and embrace the beauty and softness of your skin like never before.
Gently massage a generous amount of Strawberry Body Butter Cream onto clean, dry skin in a circular motion. Focus on areas prone to dryness, such as elbows, knees, and heels. Apply daily or as needed for soft, radiant skin.
Aqua (Water), Butyrospermum Parkii Butter (Raw African Shea Butter), Fragaria Ananassa Seed Oil (Strawberry Seed Oil), Helianthus Annuus Seed Oil (Sunflower Oil), Mangifera Indica Seed Butter (Raw Mango Butter), Cetearyl Alcohol and Polysorbate 60 (Paraben-Free Emulsifying Wax), Rumex Crispus Extract (Yellow Dock Extract), Plant-Based Fragrance/Essential Oil Blend, Mica (Natural Colorant), Tocopherol (Vitamin E Oil), Phenoxyethanol and Caprylyl Glycol (Paraben-Free)