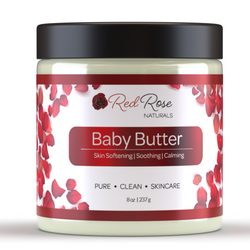 Moisturize your baby's skin without the worry of applying toxic chemicals. Our gentle, versatile lotion helps soothe, moisturize and support the skin's natural moisture balance. Made with Calendula, Shea, Sweet Almond, and Sunflower oils to leave skin feeling supremely soft. 
Gentle enough for newborns. 
Calendula is a natural herb from the marigold pot plant and provides an immense amount of benefits. Calendula's calming properties are great for skin with irritation, eczema, insect bites, and sunburn. 
8 oz. Jar
Made With All Pure & Clean Ingredients:   
Raw African Shea Butter, Calendula Infused Oil, Coconut Oil, Raw Mango Butter, Sunflower Oil, Raw Cocoa Butter, Vitamin E Oil, Sweet Almond Oil.