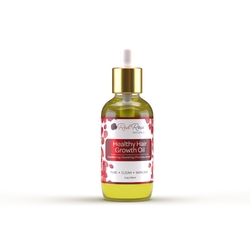 Healthy Hair Growth Oil (Infused with Rosemary Oil)
Infused with the miraculous herb Rosemary Oil.
We have curated a hair-growing oil with plant-based oils that conditions and protects each strand. 
Our Healthy Hair Growth Oil provides healthy hair, hair growth & scalp nourishment. Eliminates dryness, protects hair from breakage and adds shine. Excellent for locs, twists, protective styles, curly & straight hair.
Suggested Use: Apply to hair and scalp as desired. Perfect for scalp care and eliminating itching. 
Sunflower Seed Oil, Jojoba Oil, Argan Oil, Rosemary Oil, Sesame Seed Oil, Essential Oil Blend, Black Seed Oil, Tea Tree Essential Oil, Peppermint Essential Oil, Lavender, Vitamin E.
Container: 4 oz./1 oz. Glass Dropper