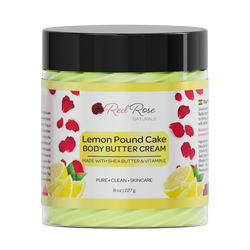 Lemon Pound Cake Body Butter Cream
Experience a slice of pure bliss with the Lemon Pound Cake Body Butter Cream this summer by Red Rose Naturals. Crafted with utmost care and infused with the finest ingredients, this luxurious body butter cream is a testament to the brand's commitment to quality.
At the heart of this indulgent formula lies pure shea butter, known for its deeply nourishing and moisturizing properties. Sourced responsibly from the nuts of the shea tree, this rich butter is carefully incorporated into the Lemon Pound Cake Body Butter Cream, delivering intense hydration and leaving your skin feeling velvety smooth and replenished.
Immerse yourself in the delightful aroma of freshly baked lemon pound cake. The zesty scent of lemon uplifts your spirits and rejuvenates your senses, creating a refreshing and invigorating experience. As you apply the body butter cream, the fragrance envelops your skin, leaving a subtle, lingering scent that is both comforting and tantalizing.
Red Rose Naturals takes pride in creating products that are not only effective but also a joy to use. The Lemon Pound Cake Body Butter Cream has a luxurious, whipped texture that glides effortlessly onto your skin, melting upon contact and absorbing quickly without any greasy residue. This lightweight formula allows for easy application, ensuring your skin receives the full benefits of the nourishing shea butter.
Embrace the power of nature with Red Rose Naturals. The Lemon Pound Cake Body Butter Cream is meticulously crafted without the use of harsh chemicals, parabens, or artificial additives. This makes it suitable for all skin types, including sensitive skin, ensuring a gentle and soothing experience.
Indulge in the decadence of Red Rose Naturals Lemon Pound Cake Body Butter Cream and let its pure shea butter and tantalizing lemon fragrance transport you to a blissful state of relaxation. Treat yourself to the ultimate pampering experience and unveil skin that is luxuriously soft, supple, and beautifully scented. Elevate your skincare routine with this exquisite product and embrace the radiant glow that comes from nourished, well-cared-for skin.
Gently massage a generous amount of Lemon Pound Cake  Body Butter Cream onto clean, dry skin in a circular motion. Focus on areas prone to dryness, such as elbows, knees, and heels. Apply daily or as needed for soft, radiant skin.

Aqua (Water), Butyrospermum Parkii Butter (Raw African Shea Butter), Citrus Limon Peel Oil (Lemon Oil), Vanilla Planifolia Fruit Oil (Vanilla Oil), Helianthus Annuus Seed Oil (Sunflower Oil), Mangifera Indica Seed Butter (Raw Mango Butter), Cetearyl Alcohol and Polysorbate 60 (Paraben-Free Emulsifying Wax), Plant-Based Fragrance/Essential Oil Blend, Mica (Natural Colorant), Tocopherol (Vitamin E Oil), Phenoxyethanol and Caprylyl Glycol (Paraben-Free Preservative).